Sarasota White Dove Release
Beautiful white bird releases for all your special events. A unique presentation for weddings, memorials and almost any special occasion in the Sarasota/Bradenton area, including all our barrier islands on the west coast of Florida within a 50 mile radius. Please Click Here for a map of our Service Area. For centuries the White Dove has been recognized as a symbol of peace, love, unity, prosperity, hope, faith and new beginnings. Many passages of the bible portray the dove for peace, the Holy Spirit, simplicity, innocence and love.
'He will cover you with His feathers. He will shelter you with His wings.
His faithful promises are your armor and protection' (Psalm 91:4)
Our birds are much loved and many hours of training and care assure their safe flight home, following a release. The birds used for release are pure white homing pigeons, one of the larger breeds of the dove family. Also known as the "Rock Dove" or "Columba Livia". For more information on the types of doves, please visit the American Dove Association.

Often people think about releasing balloons or butterflies to celebrate life and love. Please click on this link to learn more about eco friendly celebrations.

The services that these beautiful white birds perform are endless. Birthdays, graduations, grand openings. Most memorable of all, the Wedding to symbolize the unity, love and commitment, or a Memorial Service for the loss of a loved one or friend, to symbolize their flight to everlasting peace. It is an event not easily forgotten. Please let us know how we can make your event one of a lifetime.

It is our policy to donate a release for any active serviceman or woman that died while serving our country. Any police or fireman that is killed in the line of duty will also receive a dove release. We appreciate all you do for us.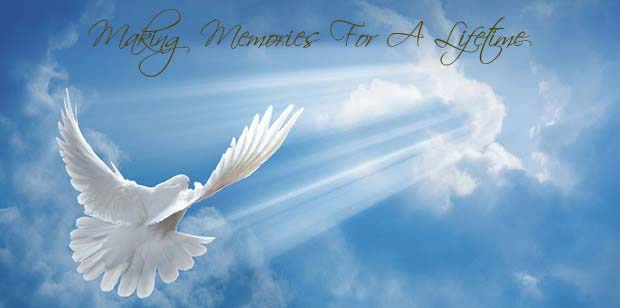 The types of releases done are unlimited and may be designed individually. Our listed prices are for a 25 mile radius, which includes most of Manatee and Sarasota Counties. The birds have been released much further than that, but a surcharge is added for distance. They will not be released in inclement weather or without a sufficient amount of time to return home before dark. 100% refunds will be given for any acts of God circumstance, if it is before arrival and set up.

Our birds need at least 1 hour to arrive home safely from the release within a 20 miles area. 2 hours if further. Please check Here for Sunset Time for your event.

Make sure that you have read and understood Our Release Policy.