Sarasota Dove Release
Memorials And Funerals
"Oh, that I had wings like a dove!
For then I would fly away and be at rest." Psalm 55:6
At funeral and memorial services, a Dove Release is a peaceful and healing tribute. It is a beautiful way of expressing a final goodbye, of letting go. The feeling of peace helps to bring closure to family and friends and is a unique, heartfelt way to honor your loved one. A white bird release helps to ease the grief. For religious sentiment a Trinity release is a four bird release. A single white bird is released representing the spirit. Three more birds are then released to represent the Trinity and the final escort. Or perhaps a flock release. He or she is truly flying with the angels!! Also representative of all that have gone before us and all that are left behind. They are going home. Where we all hope to be one day. Together again.

It is our policy to donate a release for any active serviceman or woman that died while serving our country. Any police or fireman that passes during the time of active duty will also receive a free release. We appreciate all you do for us.

Our birds need at least 1 hour before sunset to return home safely from a release within 20 miles and 2 hours for further distances. Please click here for sunset times.

And here for pricing. Credit Card payment information may also be found on that link.

Please download a fillable contract Here. After signing and dating, you may scan, save to your computer and email to jackie@sarasotadoverelease.com Or Fax to 941-210-7687 Or mail via USPS to Sarasota Dove Release, PO BOX 52225, Sarasota, FL 34232-0338.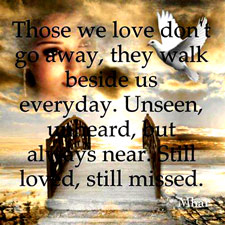 'He will cover you with His feathers,
And under His wings you will find refuge.'
(Psalm 91:4)
In loving memory of my son-in-law, Steve Ozbirn
12/30/1973 to 06/03/2008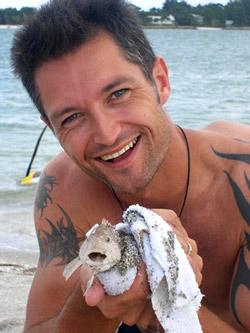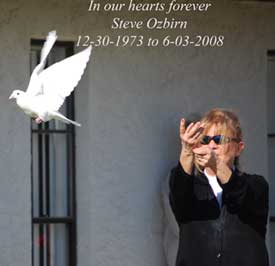 I thank God every day, for letting us have him in our lives, albeit such a short time. Steve passed in 2008 of Eshopageal Cancer. The memorial service was at South Lido, his favorite place to fish and where the picture was taken of the last fish he caught there. It has taken me four months to get the strength to put this on my website. The tears continue to fall, as if it was only yesterday. My beautiful white birds did for myself and my family what I believe that they have done all along for my clients.
Since this was originally put on my website, several years have passed and this still brings me solace. Clicking on his photo will bring you to his website.